Matrix Games: The Matrix Online: The Kid's Blog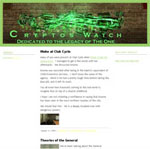 I recommend that you become familiar with the Matrix Online plotline before reading this page.
In The Matrix Online video game (which takes place after M3 ends), a Zionist faction emerges called Cypherites, and they are followers of Cypher who believe in the cause of getting all Zionists to rejoin the Matrix and to stop giving red pills to people in the Matrix. They believe they are following Neo's wishes since Neo fought for peace between machines and humans, and their leader is named Cryptos.
Believing that Cypherites are "pissing on the grave of Neo", the Kid (from The Animatrix and M3) forms E Pluribus Neo, another Zionist faction at the other extreme. They fight Cypherites and also set off bombs inside the Matrix that reveal Matrix code to people inside the Matrix, in order to wake up as many people as possible (a bit extreme, since it actually kills some people because of drowning in their real world pods). E Pluribus Neo followers also believe they are doing what Neo would want them to do, since Neo freed so many minds.
Almost every issue of The Sentinel (bluepill newspaper in the video game) contains secret links of encoded communication for Zionists, Merovingian followers and machine allies use to communicate with each other. Once E Pluribus Neo formed, they started communicating through secret Sentinel links as well. One of the encoded messages is signed off with "JVVROZQDNQIUEQOETARVQU". A simple Caesar shift cypher reveals this to be HTTPMXOBLOGSCOMCRYPTOS. Adding certain punctuation to this reveals http://blogs.com/cryptos. This is a website apparently run by the fictional Kid from M3 - his own blog mostly concerning Cryptos. The blog dates back to before E Pluribus Neo formed, and shows the Kid has been watching Cryptos for some time. While all MxO players know that the Kid runs the blog, the Kid runs the site anonymously and would deny involvement if approached about it (just as he would deny leading E Pluribus Neo).
This helps to complete the Wachowskis' whole "multi-media" storytelling technique: the entire Matrix story is told through three movies, nine short animated films, two video games (The Path of Neo doesn't count), comics, and this fictional website that you and I can access in our own real world. Kinda weird, huh?
What I Got from the Blog
While many of you will probably like to view all of the blogs on the Kid's site, some of you may only care to know what information from the website affects your understanding of the ongoing plot line, history of the Matrix, or how the Matrix system works. So, I have compiled a list of things I learned from the Kid's blogs as well as user comments:
I Knew Cryptos (Nov. 29, 2005) - The Kid reveals that he knew Cryptos and that Cryptos used to be a fanatic who made Morpheus look timid. Cryptos wanted to bring nuclear bombs into the Matrix and kill everyone inside in order to deprive machines of their power. Suddenly, Cryptos "took the blue pill," as the Kid puts it, and he asks users to comment. The comments all seem to agree that Cryptos isn't himself and has possibly been "reprogrammed", and one user references the recorded conversation overheard in Matrix Games: Matrix Online: Chapter 3.2 between Cryptos and an agent. It seems pretty clear to me that Cryptos is somehow being secretly controlled by Machines. One of the user comments also indicates that neither Zion nor Machines know about the Kid's blog, and that Zion would surely shut it down if they found it.
A Possible Suicide (Nov. 29, 2005) - Most of this blog discusses Cryptos's love affair with a woman named Dove, the woman who gave Cryptos the red pill and brought him to Zion. After he left her, she soon died in the Matrix, probably after confronting Agents as a way to commit suicide. The Kid speculates that guilt over Dove's suicide drove Cryptos to his original fanatic state of wanting to destroy the entire Matrix. The beginning of this blog expresses suspicion about the boxes Cryptos appears in all over town, arguing that Cryptos's teleportation must be facilitated by these boxes, which probably act as portals to other locations around the Matrix or possibly "to the Machines' source code."
For What It's Worth (Jan. 3, 2006) - The Kid discusses how arsonists often show up to watch their own fires, so it's standard procedure to videotape the crowd watching a fire. He mentions that Cryptos wanted to destroy the Matrix with fire. He also says that arsonists were often bedwetters as children, and many arsonists had a childhood history of torturing animals, and that Cryptos was a bedwetter. One user reacts with the comment, "Keep your eyes peeled for familiar faces in the crowd...".
Why Call Them Back From Heaven? (Jan. 18, 2006) - The Kid admits that he completely fabricated the last blog (Jan. 3, 2006) in hopes that he might get a "rise" out of Cryptos, whom the Kid believes reads his blogs. Cryptos didn't fall for it, which surprises the Kid: apparently, Cryptos has no pride when it comes to his former life. The Kid continues by saying that there is general agreement among humans that Machines have the ability to wipe humans' memories clean and give them a new set of memories, effectively giving "mass" blue pills. The Kid admits everyone wishes to be an important person inside the Matrix (referencing Cypher's wishes for reinsertion and therefore referencing Cypherites), but under the crazy scenario that all people actually do agree with the Cypherite agenda, he sees the problem that there is no way for a former redpill to know if the Machines actually kept their word to make the redpill into an important person. "If there is an erasure of memories, how could the former Redpill complain he wasn't given the life role he was promised? He could be a sewer worker with liver disease and one blind eye, and there'd be no one held responsible. He wouldn't know." The two subjects of this blog clearly relate to each other. It seems likely that if Cryptos is indeed reprogrammed by Machines, he wouldn't remember his former life. This would certainly be a possible explanation for why the Kid couldn't "get a rise" out of Cryptos. One user comment points out that it's one more reason not to follow Cryptos, not to mention how hard it would be to "give up being God" in favor of going back to "normal" (going from a rule-bending redpill to a rule-obeying bluepill). Also interesting is the title of this blog, which suggests the Kid thinks of Zion as Heaven, presumably because it is "real" and also because redpills can have so much fun bending rules in the Matrix.
A Storm Is Coming (March 28, 2006) - E Pluribus Neo met at Mara Congregational and later obtained a

photo

that was taken at the meeting by a Cypherite. On the photo was the following encoded message:

L WSBYPIBZ ULY JHUA ZAYW JFWOLYPALZ. HSS YLKWPSSZ DPSS YLABYU AY YLK WYKZ DOLU ZRPLZ HYL ISBL. (AH) After applying a Caesar cipher shift (with key "T"), the message is revealed to be: E PLURIBUS NER CANT STRP CYPHERITES. ALL REDPILLS WILL RETURN TR RED PRDS WHEN SKIES ARE BLUE. (TA)

(typos are part of the original message, which is why one user responds, "Our enemies are no cryptologists." Ironically, their enemies are "Cryptosologists". This is obviously a threat that refers to the "Piece of Blue Sky" concerts coming up only a few days after this blog date (see Matrix Games: Matrix Online: Chapter 4.2b). One user responds with the message "A man with an open wound shouldn't cross a river filled with Piranha. I suggest Redpills avoid large gatherings." The user has no name (just a period symbol), but the e-mail address is listed as a@a.com. The same user posts again, pointing out that E Pluribus Neo is an anagram for "Be Lupine Or Us" and suggests that E Pluribus Neo has an anti-Merovingian agenda (Lupine refers to werewolves in the Matrix, which would be Merovingian exiles). Another user suggests that the signoff in the encoded message ("TA") could possibly be "AT". Either way, all I can think of is that "TA" could be "The Architect", and "AT" could be "ArchiTect" (this also goes along with the a@a.com address). This is a bit confusing since the Architect actually held a meeting with machines to tell everything he knew about sleepwalkers and the power drain associated with their arrival, and the Architect himself actually "saved the day" by programming a subroutine that would turn sleepwalkers back into bluepills (see Matrix Online Chapter 4.2b). If this encoded message is from the Architect, the only thing that makes sense to me is that the Architect was originally behind the concerts (in order to obtain more humans for the Matrix power plant) but finally realized the concerts would destroy the Matrix rather than helping it. We also figure out in the March 30, 2006 edition of the Sentinel (which goes along with the Matrix Online Chapter 4.2b) that the Merovingian is actually behind the concerts. It could be that the Architect and Merovingian both backed the concerts in hopes of turning redpills into bluepills, and when they learned it would destroy the Matrix, the Architect withdrew while the Merovingian pursued the concerts even more aggressively. While the Architect wishes to provide as much power to machines as possible through the Matrix (that's the whole point of the Architect's creation), the Merovingian would be happy if the Matrix crashed (see Merovingian: Stop Neo. As a side note, the

Cypherite photo

of the E Pluribus Neo meeting shows a painting in the background on the wall of the church, showing a woman in an orange dress with a green shall (or blanket?). This color scheme is the same used in the Oracle's kitchen, and it references the Delphic Oracle.
Neo in Boxes? (March 30, 2006) - There is a rumor that Neo appeared in one of Cryptos's boxes, and the Kid refuses to believe this rumor, insisting that if Neo were to ever return, it would be to Metacortex, the Oracle, etc. He also says that Machines gave Zion pictures of Neo's apparently-dead body "disappearing to who knows where" from the "funeral barge-like moving platform". To me, this suggests that Neo's consciousness lives on without his physical body. The user "a@a.com" (again, probably the Architect) responds in defense of Cypherites, saying that they are doing nothing more than persuading redpills to voluntarily reinsert themselves into the Matrix, which is merely part of a peaceful democratic process. I would agree! Under this new peace agreement, Machines would have every right to campaign for redpills to reinsert themselves. Another user,

D166ER

, posts the following response, which I think is quite illuminating:

The Machines are so cagy about Neo I think he's unquestionably alive. We have the emergency jack-out mechanism; why wouldn't they, in all their advanced technology? When Neo "died" in his battle with Smith, I think it's save to assume he was merely unconscious and stunned. The Machines wouldn't destroy their equivalent of an anti-virus program if it was their only copy. Morpheus was right to campaign for his relics. Neo is a prisoner, somewhere.

I happen to agree that Neo never actually died at the end of M1. It seems almost ridiculous not to suspect this anyway, because of how critical the One is to the running of the Matrix system. Machines wouldn't be so careless as to protect the One from dying in the Matrix. I also agree that Neo (or at least his consciousness) is not dead. Considering the main subject of this blog (Neo in boxes), it is also interesting to consider the possibility that Neo may have something to do with the control that Machines are exerting over Cryptos. A user named "Nicks" points out another possibility that Neo could be living out his life in the Matrix, totally oblivious to any memories of his previous self. This theory is supported by the fact that a woman named Sarah Edmontons (anagram for Thomas Anderson) suddenly woke up from a coma and walked out of the hospital, bypassing all security guards. Some time later she came under the protection of Seraph, whos purpose is to "protect that which matters most".
Rumble (March 31, 2006) - This blog describes a big fight that broke out between E Pluribus Neo followers and Cypherites in front of a Cryptos box while Cryptos was speaking. The Kid thought he perceived Cryptos reacting in dismay that people weren't buying into his speech. A user responds that it is likely a simulcra of Cryptos - MxO players have seen simulcra of Cryptos already at various Cypherite training bases, where a Cryptos imitation figure is used to train new members.
Pathetic. (May 4, 2006) - In this blog, the Kid condescends down to Veil (known as Toorima in Zion), a Cypherite leader who murdered redpills on their hovercraft while they were jacked into the Matrix, saying that anyone who wants to escape into a dream (a "movie projected on the inside of a womb") is pathetic. He also suggested that deep down inside, Cypherites are fascists who want to force people into submission. Once Veil was broken out of the Zion prison, vague "plans" were to proceed that couldn't take place without her, probably referring to the "Piece of Blue Sky" concerts - so the Kid's fascist statement ends up being true for some more extreme Cypherites.
Remember The One (May 21, 2006) - This blog doesn't say much except to pay tribute to the One, admiring him for his humility while still having a capacity for anger when it's necessary, encouraging E Pluribus Neo members to emulate these traits. The real reason for his post, however, lies in an embedded image (an image of very light green text on a white background, easy to miss), which says:

I need a way to communicate to you alone. This is not optimal, hidden in plain sight, so to speak, but I have ideas for how to improve it. If you received this message, bow to me when you first see me. I will bow back, and make a joke about it if it seems necessary. Sometime during our next meeting, I'll whisper a key to the code in which the next message will be encrypted.

One user responds, "Set it off. What is holding you back?" This probably refers to code bombs that the Kid is thinking of using, and apparently someone else knows the Kid has them.
Sezar (May 21, 2006) - This short blog simply welcomes a new member to E Pluribus Neo named Sezar, and shows a picture of him. Many Cypherite users respond with threats since this post officially confirms involvement with EPN. One user calls the Kid by his real name, Michael, and mentions that while Gray (Agent Gray) failed to apprehend the Kid, Cypherites will not. The users then transition into a debate about whether Machines are using humans for a symbiotic relationship (Cypherite argument) or a parasitic relationship (EPN argument).
Anome insults (July 15, 2006) - The Kid devotes this blog to listing out some of the hilarious insults that Anome has used (Anome is a Zion leader who turned into a rogue terrorist by drinking "cheat code" potions made by Machines not intended for redpills). The ones he lists are:

Tongue-licked freshness (for an inexperienced Redpill)
Tumors of Data (for Agents)
Competence of a concussed bonobo
Hyperjumping hillbillies (for high level Redpills)
Escargot maggots (for Merovingian allies...a bit taxonomically garbled, that)
Council of Wrinkles (for the Zion Council)
The Garlic Lady (for Agent Pace)
Monsoir Syphilis (for the Merovingian)
Eurotrasheriffic (for Flood)
The Furious Pigeons (guess who)
The Tetragrahamcrackers (ditto)
The Green Disease (for Redpills who want to spend time in the Matrix)

The only two user responses are messages encoded with the Caesar cipher technique. Once decoded, the messages read:

Blistering. shift them as i told you. (i hope this works. if you understand, reply in the same way. but use a different letter shift.) lead the message with a word. its last two letters denote the shift, as this does n-g. encode the rest. i haue good reasons: cypherites haue infiltrated us. anyspeial attention i pay you could mean your death. Guardian. cypherites? where? within zion or e pluribus neo? blistering, i hope you are not lying. i am going to tighten up security within the syndicate... we've had enough on our hands with anome's betrayal.

I Will Be There (July 16, 2006) - The only text in this blog is "The Vault. Today." This text links here, which is now an invalid Sony Games message board link. Please contact me if you find where this link should actually point to.
Above the Vault (July 17, 2006) - This post seems to be a follow-up on what happened at the event advertised in the previous post. There are four pictures of the event.

One of them

shows some gold code images of players. The blog itself doesn't offer much explanation - the Kid comments on how sometimes the Matrix seems like a religious experience, and that clearly humans are creatures of spirit. One user responds with encoded text, and once deciphered, it reads, "i understand! this is thrillinh...even if it seems melodramatic. i guess i am ready for whatever message you have created this system to deliver." This suggests that this scene of gold figures has something to do with communication and/or delivery of messages. Again, please contact me if you have more information about what this event is all about.
Theories of the General (July 26, 2006) - The Kid presents a few theories about who the General is. He says he could be a misfit program who genuinely wants to help humans, or he could be a tool of the Machines. But he discredits both of these theories and leaves the question open. The Kid says something else that sheds quite a bit of light about the history of the Merovingian:

True, appearances do lie. There's no reason a sun-controlling program should look like a little girl. Or an operating system seem to be a sybaritic French gangster.

The first sentence refers to Sati of course, and the second sentence refers to the Merovingian. The second sentence confirms my theory that the Merovingian used to be the Prime Program for Matrix versions 0.8b and 0.9b (see Matrix System: Revision History). After considering the way Machines react to the General and his men, the Kid finally concludes (and I agree) that the General is acting independently, and he asks at the end of the blog how the General got into the Matrix without help from the Merovingian. Although the General and his Commandos may not actually be sentinels, the answer that makes the most sense to me is that since Agents and sentinels are one and the same (see Matrix System: Agents), sentinels can jack into the Matrix at any time they wish (remember they can take over the bodies of humans experiencing shock). They may even be able to do so wirelessly when they are flying around. The General and his Commandos probably have similar access to the Matrix system, even if they are not sentinels. The first user response points out that the same question can be asked of Smith (how he got into the Matrix without the Merovingian's help). For my answer to this, see the Smith page. Another response observes that the General doesn't want the truce to last (the General is playing all sides, trying to get each side to fight each other). Why would the General want to end the truce? Same reason as any other fighting machine: when there is war, war machines are in demand. It is safe to assume that many sentinels, sentinel commanders and other military machines have either been destroyed or have sought refuge inside of the Matrix. If they can break the truce between Zion and Machines, their purpose can be reinstated in the real world.

Yet another response links to another entire blog devoted to the General (links will be provided at the bottom of this page - I highly recommend reading the rest of this blog first). The same user also posts the following message:

The General is older then you think NRK1. In fact he is probably one of the oldest things around still. Predating the Merovingian and even the Matrix it's self. There have been two great armies in the machine age of power. One to keep us under control and one that put us in control. We never learned what happened to that first army did we?

This is primarily why I don't believe the General to be an actual sentinel, but rather some other kind of military machine (or maybe an older version of a sentinel). If he is older than the Merovingian, then the General may have been created before the Matrix was even in existence. Also, the last couple sentences seem to indicate that a machine is posting this message. The phrase "put us in control" doesn't make any sense when read from a human point of view, because humans are not in control. Could it be that humans created military machines whos only purpose was to fight the enemy machines of humans, and the human-built army was never totally destroyed? Or did machines need a military force of their own to control certain rebels of their own?

Niobe at Club Cyclo (August 14, 2006) - In this blog entry, the Kid discusses how Anome had a rough childhood in the Matrix before taking the red pill and had to the "child protective services" equivalent in Zion once freed. He says Anome is deeply troubled and that he should be feared. The Kid also says that Anome's life was rough "before taking the blue pill", and although some users interpreted this as a typo, others don't, including myself (justification to follow). One user asks the question, "Is Anome an unwanted guest or merely a test subject, I wonder?" The latter half of this speculation makes the most sense to me: if Anome were an experiment of machines during his childhood, part of the experiment very well could have been to insert him into the Matrix, effectively "taking a blue pill". Who would have done this experimentation? See Arc 1 of Pandora's Boxes. Another user lends more credibility to this theory of experimentation on Anome, as he says that Anome thinks that both the Matrix and the real world are false realities. This blog entry and many other clues suggest that Anome may be the blogger for the General's Blog (and I now recommend reading this page).