Movie Titles: The Matrix Reloaded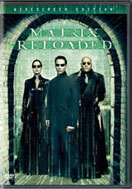 The title of the second movie, Matrix Reloaded, refers to the same kind of "reloading" that computers do, as in when we reload an operating system. Consider these two observations:
At the very end of the first movie, Neo speaks to the Matrix and tells it he is going to set people free and show them what the Matrix doesn't want them to see. While he explains this, he crashes the trace program, which we must assume will force the system to reconsider the way it runs this program.

In the beginning of Reloaded, Neo fights some agents and quickly notices that they are, in his words, "upgrades".
The title Matrix Reloaded clearly refers to the fact that the Matrix had to be upgraded and "reloaded" at some point between the first and second movies, in order to account for Neo, the emerged anomaly.